The future of blockchain for industrial application
insights from Vechain
an interview with jérôme grillères
At INPHO® Venture Summit, executive investors and corporates challenge game changing innovations in the 5 high growth vertical businesses: mobility, healthcare, infrastructure, consumer and smart factory. Participating to INPHO® Venture Summit is a unique experience in the world of hardware conferences in order to get inspired through hard talks, meet with best partners and get ahead of competition.
A panel discussion at INPHO® Venture Summit will be dedicated to industrial blockchain in order to challenge its unique value proposition and limits while assessing live business cases.
Blockchain is known in cryptocurrency with many conferences addressing Blockchain for FinTech. At INPHO® Venture Summit, we consider this as the tip of the iceberg with much more to be developed, especially in Industrial applications.
To give you a sneak peek of this session we have interviewed Jérôme Grilleres, General Manager Europe at VeChain.  VeChain project was first initiated in 2015 then the first production case launched in 2016, Shanghai, making it one of the one of the oldest blockchain companies in the industry field. VeChain is a blockchain-based platform that aims to improve the day-to-day business collaboration, offering for instance real-time tracking of various business processes and products. In this interview Jérôme shares with us the unique value of Industrial Blockchain in highlighting today and tomorrow's use cases.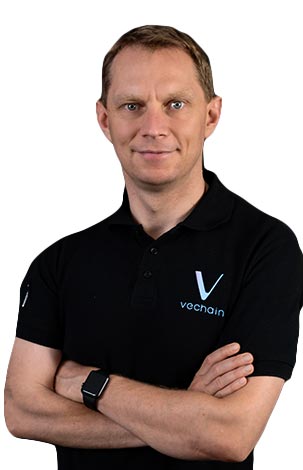 VeChain is focusing on industrial applications. Jérôme, based on your experience could you describe the value of Blockchain for industrial application?
It is important to first understand the value of Blockchain, its first and foremost undeniable selling proposition is the traceability and data authenticity the technology guarantees. Fortunately, having ventured into the world of Blockchain, it is not a mere buzzword or a foreign concept for us, we have met many passionate people who share the same goal and lots of enterprise partners who dare to explore the benefits of this new technology.
VeChain is the world's leading blockchain platform offering Blockchain-as-a-Service to enterprises for products and information. By leveraging on blockchain technology, VeChain strives to build a trust-free and distributed business ecosystem, which is self-circulating and scalable.
With this comes many possibilities which we have concretely implemented across businesses. For example, a luxury brand like LVMH who wishes to guarantee the authenticity of its products cross continents, anytime, anywhere and at any check point – be it in transit, customs, shops or in the client's possession.  A collector who wishes to register his property on an undeniable unique and public block and transfer his ownership; or a middleman fighting counterfeit in the import and export of wine or medicine. Blockchain is a way to authenticate and connect all actors in the supply chain from suppliers to customers and bring consensus.
One of the challenges of Blockchain is to connect it to the physical world and not only on a virtual system. How do you address this challenge?
Indeed, with this technology comes one obvious limitation –  linking this virtual data, to one unique physical product without it being compromised. Such solutions are currently being developed, unbreakable chips with NFC technology – unique, non-transferable, impossible to duplicate, and safe. This technology brings the solution with an unbreakable public and private key, giving access to those only authorized.
As you clearly explained it, the unique selling proposition of Blockchain value relies on traceability and data authenticity. If the luxury market is a concrete example where good authenticity has undeniably value, we could consider that personal, medical or behavioral data and their protection are very attractive markets for blockchain implementation.
We fully agree! VeChain and the University of Michigan are currently working on understanding how we can incorporate personal data on the Blockchain, while at the same time keeping the individual the full owner of his master data.
This will enable the emergence of new business models, where individual in the near future can monetize their information on the Blockchain; for medical research purposes, or even the automotive usage for insurance programs.
How do you see the future of Blockchain?
My vision is that Blockchain will follow the same path as the internet. We will all follow a standard, a protocol where every industry will add its functionalities and specificities.
Today Blockchain is made much more user friendly and simple than its early beginnings; available in Open source everyone can access the Blockchain simply through his smartphone with an application or a QR code. 
This Open Source will enable new business models, connecting systems and efficient data flow.
At INPHO® Venture Summit, we challenge the business opportunity of Industrial Blockchain. Industrial Blockchain could be considered as an attractive solution to generate high level privacy and data security while enabling new business models. At INPHO® Venture Summit, Blockchain will be challenged and tested by players from health authorities, industries and mobility companies to bring forward the right questions.
INPHO® Venture Summit, the unique event for executives active in smart technologies and deep tech innovations will hold its 6th edition on 11th & 12th October 2018, in Bordeaux. The event will be chaired by George Ugras, General Manager at AV8 Ventures.
In its five previous editions, INPHO® has attracted more than 500 European participants, 50 international keynote speakers and over 80 VCs and corporate funds. More than 60 start-ups have been selected to pitch, raising more than 150 M€.
be part of it,
ask for your registration here!